Sal and Bella from ShoFilms on Vimeo.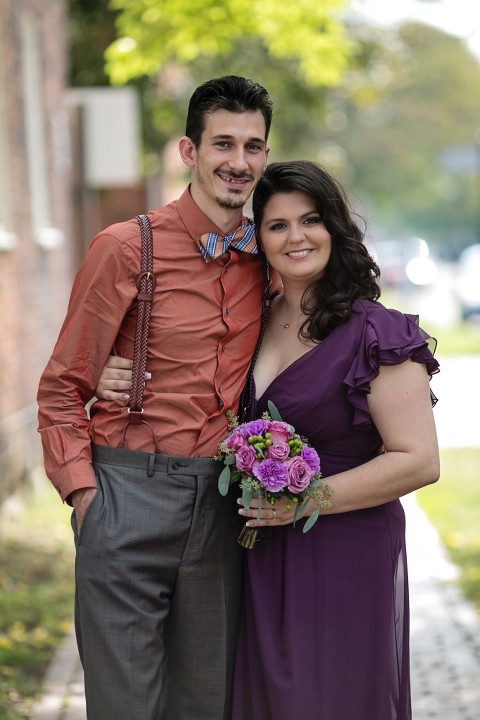 Hi there. We are Matthew and Chrissy, the husband and wife team behind Weddings by Sal & Bella, Pittsburgh wedding photographers.
Matthew & I met in high school. I was a junior. He was a sophomore. Our love blossomed over the years. He affectionately nick named me "Bella" , because he thought I was beautiful. Matthew is Italian, and was all about everything Italian in school so I started calling him Salvatore "Sal" for short. (One of his favorite Italian names.) We are now happily married and have 2 wonderful children. We have been blessed in life with a wonderful supportive family and many wonderful friends.Photography is more than just our job, it's our passion.
For me its all about the joy, the celebration, the moments, and the emotion. For Matthew its all about testing the limits, trying new things, and catching all the candid behind the scenes fun. All while producing amazing images.
We are passionate about what we do. We put in our whole heart always. I've been described as fun, quirky, &  lovable but also ambitious and reliable. Matthew, he is my rock. He is always eager to lend a hand, but he always manages to keep things light and fun.
Our photography tells a story. It's fun, fresh and natural.  We are always striving to try new things.  Our #1 goal is not only to deliver you with exceptional photos, but for you to have an unforgettable experience with us.
Winston Churchill said "You make a living by what you get, but you make a life by what you give," and to be able to give these moments to people so that they can cherish & look back on them forever… That is one of the best feelings in life for me.
Thanks for checking out Weddings by Sal and Bella, and for the continued support!
If you are interested in booking us please hit the "Contact " tab at the top of the page.
We can't wait to meet you!!!